Education
For poor people in rural areas, education is often a distant dream. We work together with a local organization 3D Hope For Tomorrow, to provide children in rural areas with education, water, hygiene, health and food.
In Ethiopia, only half of the population can read and write. Poverty is widespread. We contribute to more than 3,000 children and young people having the opportunity to go to school every year. These are students from preschool classes up to university level. Education is of great importance in reducing poverty in the long run.
BarnSamariten has five village schools in different areas. One of the goals is that there should be as many boys as girls in schools. The girls are always most vulnerable. They are taken for granted that the girls should be at home and help with household chores and taking care of siblings. In addition, many young girls get married at an early age. Through education, it is possible for girls to make a difference. Girls need to be aware of their rights and opportunities.
When children get the opportunity for education, they also get new dreams for the future. Many people begin to dream of a profession and hope is ignited in both children and parents. We have been involved and given support to the students from the village schools who have gone on to even higher education and today they are nurses, economists, car mechanics, agronomists and engineers etc. Education is a way out of poverty!
Goals:
That everyone regardless of gender, ethnic group, religion or age shall get to go to school.
To offer the students' health check-ups.
That the girls in need shall get a Hygiene package to be able to attend school without a break during their menstruation.
To give the poorest students food packages.
To give out preventative information about HIV/AIDS, Covid-19, family planning and drugs etc.
BarnSamariten works together with local organisations, village chiefs, municipal leaders and parents. The dialogue with the village inhabitants and the local anchoring is important for a long term change in the perception of education and not the least for girls' right to education. Education helps young people to leave poverty and is a fundamental human right. Many young people in Ethiopia need economical aid to afford to study. With new monthly donors, we will be able to help more people reach their dreams.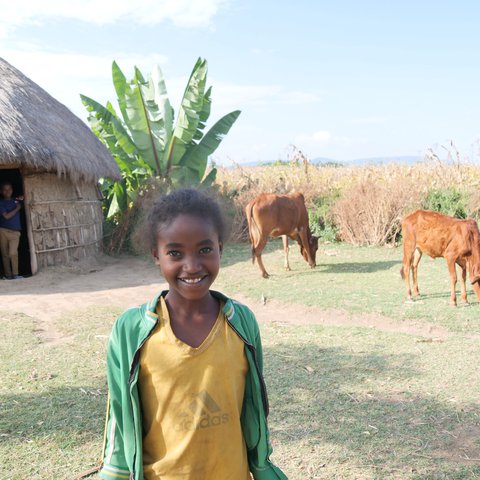 Workie dreams of becoming a teacher
Workie* is one of many girls that attend one of BarnSamaritens' village schools in Ethiopia. She comes from a family with six siblings and a father, the mother has deceased since a time back. She has a long way to get to the village school every morning but she walks with light steps, she says, because the school is the best thing she knows. She is in fourth grade.
Before she leaves in the morning she needs to fetch firewood and carry home water and when she gets back from school do the same thing. It feels easier since she knows that life will be able to change now when she is getting an education.
-Now I can make my dream of becoming a teacher come true, says Workie.
The girls that get the opportunity to attend school are very grateful. When the everyday chores are completed in the evening there is in the best case time to do homework, if not the sun has set. There is no electricity in Workies hut.
The goal is that as many children as possible shall complete primary school. Those who wish and have the opportunity to continue their education after the village school can get a school sponsorship for higher education.
Going to school is according to the UN:s Convention on the Rights of the Child, a human right but nonetheless does the UN predict that around 63 million girls in the world do not get any school education. We work towards girls' right to education and in our village schools, the goal is that there shall be at least 50 per cent girls.
*Workie has a different name in reality.